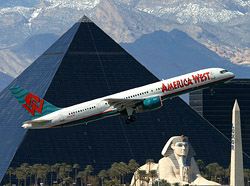 An America West Airbus jetliner departs Las Vegas McCarran Airport in this 2004 file photo. (Chris Kilroy/View Full Size)

WASHINGTON (Reuters) - Al Qaeda has deployed operatives to hijack planes and fly them into targets in an echo of the Sept. 11 attacks and is looking at derailing trains possibly carrying hazardous material, according to a top U.S. intelligence official.

Robert Hutchings, chairman of the National Intelligence Council which reports to the CIA director, did not give details of the plots but provided the most recent public outline from an intelligence official of the al Qaeda threat.

The network, blamed for the Sept 11, 2001, attacks that killed 3,000 people, seeks targets that would strike a blow to the U.S. economy, Hutchings said in a Jan. 14 speech to the International Security Management Association in Arizona, the text of which was posted on Feb. 4 on the NIC's Web site.

"Soft targets, including the U.S. stock market, banks, major companies, and tall buildings are a primary focus of active al Qaeda planning," he said.

Those targets are seen as easier to hit than U.S. government buildings and major infrastructure, which have higher security, Hutchings said.

Al Qaeda has looked at derailing trains, perhaps carrying hazardous materials, to attack U.S. interests, he said.

Nuclear power plants, water treatment facilities, and other public utilities are high on al Qaeda's target list, he said.

The U.S. government is concerned that al Qaeda will try to take its ability to build truck bombs as demonstrated by past attacks in Kenya, Saudi Arabia, and Turkey, and marry it with toxic or radioactive material to increase the damage and psychological impact of an attack, Hutchings said.

"My biggest worry, however, is how far al Qaeda might have progressed in being able to deploy a chemical, nuclear, or biological weapon against the United States or its allies," he said.

U.S. authorities have found several examples of al Qaeda adjusting its tactics to circumvent increased airline security, Hutchings said, without providing details.

"Although we have disrupted several airline plots, we have not eliminated the threat to airplanes," he said. "There are still al Qaeda operatives who we believe have been deployed to hijack planes and fly them into key targets."

The United States has beefed up security at airports and on airlines. There were a spate of flight cancellations since late December because of potential threats.

U.S. authorities have succeeded in disrupting the network, Hutchings said. "We have disrupted scores of plots at home and abroad -- plots that were audacious in terms of the numbers of attacks under consideration and their global scope," he said.